Glenn Close
FULL NAME

Glenn Close

BORN

March 19, 1947, Greenwich, Connecticut, USA

ASSOCIATION

Actress

NATIONALITY

American

REVIEWED ENTRIES

19

MAX. RATING

MIN. RATING

½

AVERAGE RATING

4.14

STRENGTHS

Character versatility
Chameleon-like appearance
Classical theatrical actress
Emotional range
FILMOGRAPHY (ONLY REVIEWED ENTRIES)
| | | | |
| --- | --- | --- | --- |
| YEAR | TITLE | ROLE | RATING |
| 1982 | The World According to Garp | Jenny Fields | ½ |
| 1983 | The Big Chill | Sarah | |
| 1985 | Jagged Edge | Teddy Barnes | |
| 1987 | Fatal Attraction | Alex Forrest | |
| 1988 | Dangerous Liaisons | Marquise de Merteuil | |
| 1990 | Reversal of Fortune | Sunny von Bülow | ½ |
| 1993 | The House of the Spirits | Ferula | |
| 1994 | The Paper | Alicia Clark | ½ |
| 1995 | Serving in Silence: The Margarethe Cammermeyer Story (TV) | Col. Margarethe Cammermeyer | ½ |
| 1996 | Mary Reilly | Mrs. Farraday | |
| 1996 | 101 Dalmatians | Cruela De Vil | |
| 1996 | Mars Attacks! | Marsha Dale | ½ |
| 1997 | Air Force One | Kathryn Bennett | |
| 2004 | The Stepford Wives | Claire Wellington | ½ |
| 2005 | The Chumscrubber | Carrie Johnson | |
| 2011 | Albert Nobbs | Albert Nobbs | ½ |
| 2016 | The Girl with All the Gifts | Dr Caroline Caldwell | |
| 2017 | The Wife | Joan Castleman | ½ |
| 2020 | Hillbilly Elegy | Bonnie "Mamaw" Vance | |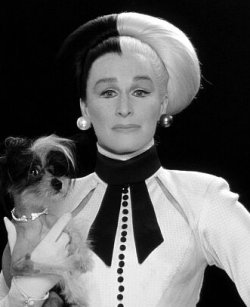 Glenn Close was well into her thirties when she became a household name, and are one of few actors in the movie business (in addition to Meryl Streep) who've managed to command good (and leading) roles well into her fifties.
American Close was raised basically in Switzerland and in Africa, travelling with her doctor father, and didn't take up acting until the seventies when she shined in various Broadway productions.
She didn't make her big screen debut until she landed an important role in George Roy Hill's successful The World According to Garp, but she immediately shot to stardom, receiving an Oscar-nomination for best supporting actress in her first appearance. She followed that up with being nominated in the same category the two subsequent years (with The Big Chill and The Natural), but despite two additional Oscar-nominations (in leading roles), she's yet to win an Oscar in her illustrious career.
Glenn Close has throughout her career shown her versatility and ability to chose challenging roles for her self. Perhaps best known for her "bitch roles", such as Alex in Fatal Attraction, Marquise de Merteul in Dangerous Liaisons and the role of Cruela DeVil in 101 Dalmatians, Close also has a more gentle side to her and has done a handful of very expressful emotional roles.
"I've often been mistaken for Meryl Streep, although never on Oscar night."
Fatal Attraction
Alex Forrest: "Bring the dog, I love animals... I'm a great cook."