Meryl Streep
Full NAME

Mary Louise Streep

BORN

22 June 1949 (Summit, NJ, USA)

ASSOCIATION

Actress

NATIONALITY

American

SPOUSE

Don Gummer (1978-)

CHILDREN

Henry Gummer (1979-)
Mary Willa Gummer (1983-)
Grace Jane Gummer (1986-)
Louisa Jacobson Gummer (1991-)

REVIEWED ENTRIES

31 (29)

MAX. RATING

MIN. RATING

AVERAGE RATING

4.02
FILMOGRAPHY (REVIEWED ENTRIES ONLY)
YEAR
TITLE
AA
GG
ASSOCIATION
RATING
1978
The Deer Hunter
SN
SN
Linda
½
1979
The Seduction of Joe Tynan
Karen Traynor

½

1979
Kramer vs. Kramer

S

S
Joanna Kramer
½
1982
Still of the Night
Brooke Reynolds
½
1982
Sophie's Choice
Sophie Zawistowska
1983
Silkwood
N
N
Karen Silkwood
½
1984
Falling In Love
-
1985
Out of Africa
N
N
Karen Blixen-Finecke
1986
Heartburn
Rachel Samstat
1987
Ironweed
N
Helen Archer
1989
She-Devil
N
Mary Fisher
1990
Postcards from the Edge
N
N
Suzanne Vale
1993
The House of the Spirits
Clara Del Valle Trueba

½

1994
The River Wild
N
Gail
½
1995
The Bridges of Madison County
N
N
Francesca Johnson
1996
Marvin's Room
N
Lee
½
1998
One True Thing
N
N
Kate Gulden
2001
A.I. Artificial Intelligence
Blue Ferry (Narrator)
2002
Adaptation.
SN

S

Susan Orlean
½
2002
The Hours
N
Clarissa Vaughan
2004
The Manchurian Candidate
N
Eleanor Shaw
2005
Prime
Lisa Metzger
2006
The Devil Wears Prada
N
Miranda Priestly
2007
Lions for Lambs
Janine Roth
2008
Mamma Mia!
N
Donna Sheridan
½
2008
Doubt
N
N
Sister Aloysius Beauvier
2009
Julie & Julia
N
Julia Child
2011
The Iron Lady
N
Margareth Thatcher
½
2014
The Homesman
Altha Carter
2017
The Post
N
N
Katharine Graham
2019
The Laundromat
N
N
Ellen Martin / Elena / Herself
2021
Don't Look Up
Janie Orlean
½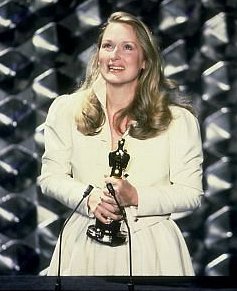 The gracefull, down-to-earth Meryl Streep has since the end of the 1970s been a powerful proponent for the regular woman in an otherwise increasingly glamour-based and superficial Hollywood. She has given substance, credibility and - not least - soul to both the industry and numerous characters.
Born Mary Louise Streep, she grew up on the American east coast and had ambitions to become an actress already at school. She studied theatre at Vassar, Dartmouth and Yale before bursting onto the New York theatre scene in the early 70s. After a couple of TV productions in the mid-70s, she landed a smaller role in Julia, a big production, and that was the start of a brilliant career. After having met John Cazale, one of the most renowned character actors of the 1970s, Streep was cast in Michael Cimino's magnum opus The Deer Hunter, and received both Oscar and Golden Globe nominations for her work. Soon after the release of the film, however, fiancé Cazale died of cancer, which was a big blow for Streep. She met her future husband, Don Glummer, a while thereafter, and in 1979 she was one of the hottest names in Hollywood, starring in movies such as Manhattan and Kramer vs. Kramer, the latter earning her her first Academy Award.
Throughout the 1980s, Streep consolidated her position as one of the most distinguished female movie actresses of all time, constantly choosing good roles and giving impressive performances. After a minor setback in the early 1990s, she was back in superb form in Clint Eastwood's The Bridges of Madison County, and she has maintained a remarkably high level ever since. While her looks early in her career led her to more mature roles than her age suggested, she has aged more than gracefully, something which has given her a span of more than 30 years playing middle-aged female characters. When she was nominated for best supporting actress for Spike Jonze's Adaptation. in 2003, she became the one performer (male or female) with the most Academy Award nominations in history.
Jordnære, yndige Meryl Streep har siden slutten av 70-tallet representert den alminnelige kvinnen i et ellers så glamorøst og overfladisk Hollywood. Hun har gitt substans, troverdighet og - ikke minst - sjel til filmbransjen såvel på lerretet som i det virkelige liv. Med fødenavnet Mary Louise Streep vokste hun opp på østkysten av USA, og tok sikte på en skuespillerkarriere allerede som skolejente. Hun studerte teater ved Vassar, Dartmouth og Yale og slo igjennom i teatermiljøet i New York med brask og bram tidlig på 70-tallet. Etter et par tv-produksjoner midt på 70-tallet fikk hun en mindre rolle i storsatsingen Julia, og dermed begynte snøballen å rulle. Etter å ha truffet John Cazale, en av 70-tallets mest anerkjente karakterskuespillere, kapret Streep en rolle i Michael Ciminos storsuksess The Deer Hunter, og mottok både Oscar- og Golden Globe-nominasjoner for denne. Forloveden Cazale døde av kreft ikke lenge etter filmens utgivelse, noe som skulle bli et tøft slag for Streep. Hun traff dog sin fremtidige Don Glummer snart etter, og i 1979 var Streep et av de heteste nye navnene i Hollywood med filmer som Manhattan og Kramer vs. Kramer (som ga henne den første Oscar-statuetten).
Gjennom 80-tallet befestet Streep sin posisjon som en av tidenes mest anerkjente kvinnelige skuespillere med gode rollevalg og meget sterke prestasjoner. Etter en noe svak periode tidlig på 90-tallet var hun tilbake med fantastisk spill i Clint Eastwood's The Bridges of Madison County, og har siden opprettholdt et imponerende høyt nivå. Hennes utseende, som tidlig i karrieren gjorde at hun fremsto modnere enn alderen skulle tilsi, har nærmet vært uforandret siden midt på 80-tallet, noe som gjør at hun midt i 50-årene fortsatt er en attraktiv rollebesetter for middelaldrende kvinnelige rollefigurer. Da hun foran Oscar-utdelingen i 2003 ble nominert for beste birolle med Spike Jonzes Adaptation. ble hun den skuespilleren (kvinnelig og mannlig) gjennom tidene med flest Oscar-nominasjoner.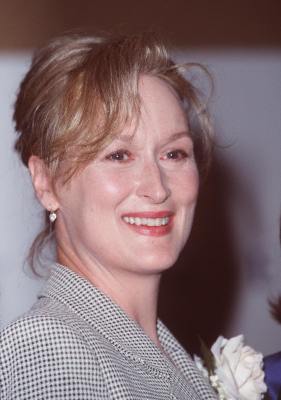 The French Lieutenant's Woman
"Meryl Streep gives an immaculate, technically accomplished performance as Sarah Woodruff (...)" - Pauline Kael
"Streep was showered with praise for her remarkable double performance, and she deserved it. She is offhandedly contemporary one moment, and then gloriously, theatrically Victorian the next." - Roger Ebert
Sophie's Choice
"Meryl Streep is a wonder as Sophie. She does not quite look or sound or feel like the Meryl Streep we have seen before in THE DEER HUNTER or MANHATTAN or THE FRENCH LIEUTENANT'S WOMAN. There is something juicier about her this time; she is merrier and sexier, more playful and cheerful in the scenes before she begins to tell Stingo the truth about her past. Streep plays the Brooklyn scenes with an enchanting Polish-American accent (she has the first accent I've ever wanted to hug), and she plays the flashbacks in subtitled German and Polish. There is hardly an emotion that Streep doesn't touch in this movie, and yet we're never aware of her straining. This is one of the most astonishing and yet one of the most unaffected and natural performances I can imagine." - Roger Ebert
Silkwood
"Streep is outstanding as real-life Karen Silkwood" - Leonard Maltin
"Silkwood is played by Meryl Streep, in another of her great performances, and there's a tiny detail in the first moments of the movie that reveals how completely Streep has thought through the role. Silkwood walks into the factory, punches her time card, automatically looks at her own wristwatch, and then shakes her wrist: It's a self-winding watch, I guess. That little shake of the wrist is an actor's choice. There are a lot of them in this movie, all almost as invisible as the first one; little by little, Streep and her coactors build characters so convincing that we become witnesses instead of merely viewers." - Roger Ebert
Plenty
"The movie stars Meryl Streep as Susan and it is a performance of great subtlety; it is hard to play an unbalanced, neurotic, self-destructive woman, and do it with such gentleness and charm" - Roger Ebert
Ironweed
"The salvation is Nicholson and Streep, whose rich performances are a privilege to watch." - Leonard Maltin.
"The only moments of reprieve from all the sombre artistry come when Streep sings "He's Me Pal" in the all-out, sentimental-Irish manner of a balladeer of a decade or two earlier; it's a spectacular re-creation of the old technique for "selling a song." - Pauline Kael
"This may be Streep's finest hour. Her complete descend into the part is riveting" - Mick Martin & Marsha Porter
The Bridges of Madison County
"Streep and Eastwood weave a spell, and it is based on that particular knowledge of love and self that comes with middle age."

"You can't get spoiled if you do your own ironing."
On whether Madonna should play Eva Peron in the film version of Evita instead of her:
"I can sing better than she can. If Madonna gets it, I'll rip her throat out!"