Elijah Wood
Full NAME

Elijah Jordan Wood

BORN

28 January 1981, Cedar Rapids, Iowa

ASSOCIATION

Actor

NATIONALITY

American

LIVES

New York, NY

REVIEWED ENTRIES

24 (23)

MAX. RATING

MIN. RATING

AVERAGE RATING

3.87

STRENGTHS

Charisma, natural presence, emotional depth.
| | | | |
| --- | --- | --- | --- |
| YEAR | TITLE | ASSOCIATION | RATING |
| 1989 | Back to the Future Part II | Video Game Boy #1 | |
| 1990 | Internal Affairs | Sean Stretch | |
| 1990 | Avalon | Michael Kaye | |
| 1991 | Paradise | Willard Young | |
| 1992 | Radio Flyer | Mike | |
| 1992 | Forever Young | Nat Cooper | |
| 1993 | The Adventures of Huck Finn | Huck Finn | |
| 1993 | The Good Son | Mark Evans | |
| 1994 | North | North | |
| 1994 | The War | Stu Simmons | |
| 1996 | Flipper | Sandy | ½ |
| 1997 | The Ice Storm | Mikey Carver | |
| 1997 | Oliver Twist (TV) | The Artful Dodger | |
| 1998 | Deep Impact | Leo Beiderman | ½ |
| 1998 | The Faculty | Casey Connor | |
| 1999 | The Bumblebee Flies Anyway | Barney Snow | |
| 1999 | Black and White | Wren | |
| 2000 | Chain of Fools | Mikey | |
| 2001 | Lord of the Rings: The Fellowship of the Ring | Frodo Baggins | |
| 2002 | Ash Wednesday | Sean Sullivan | |
| 2002 | Try Seventeen | Jones | |
| 2002 | Lord of the Rings: The Two Towers | Frodo Baggins | |
| 2003 | Lord of the Rings: The Return of the King | Frodo Baggins | |
| 2004 | Eternal Sunshine of the Spotless Mind | Patrick | |
| 2005 | Sin City | Kevin | |
| 2005 | Everything is Illuminated | Jonathan Safran Foer | |
| 2006 | Bobby | William | |
| 2008 | The Oxford Murders | Martin | |
| 2017 | I Don't Feel at Home in This World Anymore | Tony | |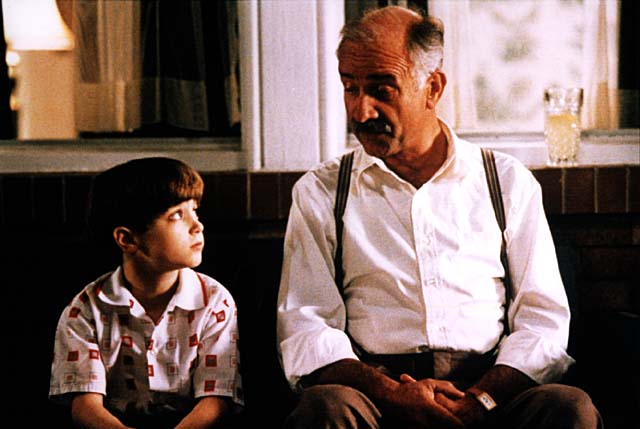 Særdeles talentfull ung skuespiller som etablerte et rykte som 90-tallet mest talentfulle barneskuespiller i Hollywood. Wood debuterte med en liten rolle i Back to the Future Part II, før han fikk sin første karakterrolle i 1990 med Barry Levinsons Avalon. I dette kritikerroste dramaet kom Wood til syne for sin sterkt troverdige portrettering av sårbarhet og intensitet, hvilket ledet til hans første store rolle i Paradise (1991). I denne en av Woods mange mesterlige fremføringer av vanskeligstilte barn, er det vennskapet mellom ham og unge Thora Birch som skinner sterkest. Deres kjemi på lerrettet vil vanskelig kunne matches.
De neste tre årene skulle vise seg å være en parade-tid for unge Wood og hans talent. I 1994 ble han kåret til årets barnestjerne av NATO/ShoWest kommisjonen. Dette til tross for at hans to filmer dette året, North og The War, ikke var betydelige suksesser. Begge filmene hviler i urimelig stor grad på 13-åringens skuldre. Og i The War gjør han også en av sine beste fremstillinger, som den anstrengte og ustabile Stu Simmons. Da hadde Wood allerede høstet strålende kritikk for sine roller i Richard Donners Radio Flyer (1992), og i tittelrollen av Walt Disney-filmatiseringen The Adventures of Huck Finn (1993).
Som barneskuespiller var Wood eksepsjonell på å formidle følelser. I langt mindre grad enn sine likemenn, hvilte hans berømmelse på sjarme og utseende. Wood takler alle dramatiske scener, men er aller best som offer for paniske og tragiske hendelser - som i The Good Son (1993) der Wood sto støtt på egne ben mot Hollywoods største barnestjerne Macaulay Culkin.
1996 representerte et skifte for Wood, som med Flipper gikk inn i en typisk ungdomsrolle. Hans talent og populæritet ser dog ikke ut til å svinne, og Wood har vært aktuell med flere interessante roller også på slutten av 90-tallet. Kanskje mest interessant i en mindre rolle i Ang Lees The Ice Storm (1997), men også som Dodger i TV-filmen Oliver Twist (1997). I 1998 spilte han en av hovedrollene i katastrofefilm-
storsatsingen Deep Impact regissert av Mimi Leder med blant andre Morgan Freeman og Robert Duvall. Bedre var han i ungdomsgrøsseren The Faculty samme år. I rollen som den upopulære nerden, var han tilbake i outcast-rollen som han gjorde så godt i sine barneroller tidlig på 90-tallet.
Wood tok dog for alvor steget opp på stjernehimmelen først med sine roller som Frodo Baggins i Peter Jacksons The Lord of the Rings-trilogi. Gjennom de tre filmene ble han allmenn kjent for sin nervøse men devoterte Frodo, og kunne først i 2003 igjen konsentrere seg om sin øvrige skuespillerkarriere med nye filmer som Ash Wednesday og Try Seventeen.
"'Paradise' does have real qualities. Two of them are the kids, played by Elijah Wood and Thora Birch with strong, simple charm." - Roger Ebert, Chicago Sun-Times, on Paradise.
"As Mike and Bobby, Wood (Paradise) and Joseph Mazzello are excellent." - Leah Rozen, People Magazine, on Radio Flyer.
"Wood is an almost scarily accomplished little pro." - Jay Carr, Boston Globe, December 16, 1992, on Forever Young.
"Elijah Wood brings a naturalness to his acting that at times is completely disarming. Perhaps Mel Gibson should have paid more attention to the familiar adage that actors should never work with animals or children because they are likely to be upstaged. As he did in Radio Flyer (1992), Wood manages to evoke all the right emotions, furthering the story as a result. His performance is in direct contrast to the rather uneven acting of Gibson, who treats some of the more dramatic moments with inappropriate lightness. Since Wood can clearly hold his own with such a seasoned professional as Gibson, Wood's career as an actor is assured." - Richard Cormack, Prodigy Online Services, on Forever Young.
"Good-hearted Huck is the most engaging urchin in American literature, and in scamp-and-a-half Elijah Wood he comes to life more than he ever has before.... Not even Mickey Rooney and Jackie Coogan, who starred in two of the earlier versions, captured the spunk and the spirit of the boy who wouldn't be civilized in quite the way Wood has.... With a face lively even in repose and eyes like great dark saucers, Wood displays more of an irrepressible imp persona than he showed in 'Avalon' and 'Radio Flyer'. Yet it is not just his wholehearted relish for pranksterism that sets this Huck apart, it is his air of capability and self-possession. This is one small boy whose survival on his own is not at all hard to believe." - Kenneth Turan, Los Angeles Times, April 2, 1993, on The Adventures of Huck Finn.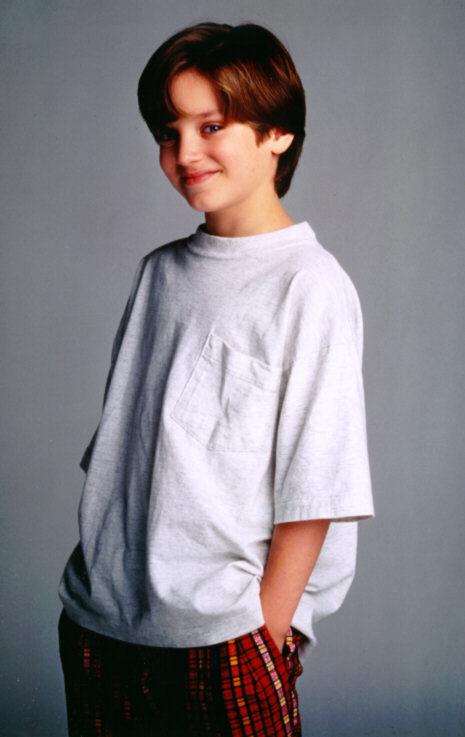 "Huck is played by Elijah Wood, from 'Radio Flyer' and 'Forever Young', who mercifully seems free of cuteness and other afflictions of child stars, and makes a resolute, convincing, Huck." -- Roger Ebert, Chicago Sun-Times, April 2, 1993, on The Adventures of Huck Finn.
"[Elijah Wood is] a talented young actor who acquits himself well even under these dire circumstances." - James Verniere, The Boston Herald, September 24, 1993, on The Good Son.
"Second-billed Wood is a far better actor [than Macaulay Culkin], and his scenes with Culkin bring the child star's limitations into painful relief." - CineBooks Motion Picture Guide, on The Good Son.
"Mr. Wood is currently the most natural, confident child actor of his generation... He's very likable throughout, and Mr. Reiner has surrounded him with a good deal of comic relief." -Janet Maslin, New York Times, July 22, 1994, on The War.
"Elijah Wood has emerged, in my opinion, as the most talented actor in his age group in Hollywood history." - Roger Ebert, Chicago Sun-Times, on The War.
"Elijah Wood--that terrific little actor--has the spunk and fury to make Stu into more than just a peacenik. ...His performance resembles a champion swimmer paddling through heavy molasses." - Peter Rainer, The Los Angeles Times, November 4, 1994, on The War.
"The most satisfaction the movie offers is the spectacular acting of Wood, 13, who is the best under-20 actor since Freddie Bartholomew." - Ralph Novak, People Magazine, on The War.
"Elijah Wood confirms his standing as the foremost actor of his generation. ...Wood acts so eloquently with his sentient face and searching eyes that his job becomes one of concealing how redundant his spoken lines are - a tricky job he largely is able to bring off commendably." - Jay Carr, The Boston Globe, on The War.
"In Jon Avnet's mesmerizing 'The War', young Master Wood is giving acting lessons all around.... I prefer to ponder the wonder of Elijah Wood, who manages to bring tremendous restraint - an inner simmering - to a role that, with a lesser actor, could have gone out of control.... Sometimes a great performance is just a onetime occurrence, and sometimes it is a flash of things to come. Right now, Wood is blinding us." - Rod Lurie, Los Angeles Magazine, on The War.
"Young Wood is an exceptionally talented actor; his career is likely to survive both The War and the disastrous North." - CineBooks Motion Picture Guide, on The War.