James Stewart
FULL NAME

James Maitland Stewart

BORN

20 May 1908, Indiana, Pennsylvania, USA

DIED

2 July 1997, Los Angeles, CA, USA (aged 89)

ASSOCIATION

Actor

NATIONALITY

American

REVIEWED ENTRIES

11

MAX. RATING

MIN. RATING

AVERAGE RATING

3.68

STRENGTHS

Brilliantly drawling speaking voice
His everyman persona
His sympathic character
His suave and elegant presence
FILMOGRAPHY (ONLY REVIEWED ENTRIES)
| | | | |
| --- | --- | --- | --- |
| YEAR | TITLE | ROLE | RATING |
| 1940 | The Philadelphia Story | Macauley Connor | |
| 1946 | It's a Wonderful Life | George Bailey | ½ |
| 1948 | Rope | Rupert Cadell | |
| 1954 | Rear Window | L. B. "Jeff" Jeffries | ½ |
| 1954 | The Far Country | Jeff Webster | ½ |
| 1956 | The Man Who Knew Too Much | Dr. Benjamin McKenna | |
| 1958 | Vertigo | John 'Scottie' Ferguson | ½ |
| 1959 | Anatomy of a Murder | Paul Biegler | ½ |
| 1962 | The Man Who Shot Liberty Valance | Ranse Stoddard | |
| 1976 | The Shootist | Dr. E. W. Hostetler | ½ |
| 1977 | Airport '77 | Philip Stevens | ½ |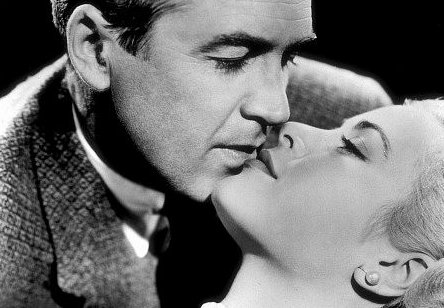 Few actors have been so unanimously loved by the public as Jimmy Stewart. From a period spanning from the late 30s to the early 60s he became a surrogate father, brother or buddy for most moviegoers, earning a respect and loyalty that would stay with him for the rest of his career. He was the tall, suave and well-mannered man, delicately featured, but still resembling the regular guy.
James Maitland Stewart was born in Indiana, Pennsylvania in 1908 to a local hardware store owner, and was looking set for a career in architecture when he met Joshua Logan who convinced him to take up acting. Moving to New York to act on Broadway, he became friends with Henry Fonda, and got small acting parts that gave him a movie contract with MGM. From the very beginning, his big screen persona stood out, and Stewart made his pre-war peak with often stylish performances in Destry Rides Again, It'a Wonderful Life and The Philadelphia Story.
His career took a turn, however, when he first started working with Alfred Hitchcock on Rope in 1948. After often being cast mainly as a romantic lead, Jimmy Stewart now became the ordinary character most could relate to, who finds himself in a difficult situation he has to handle. Many will claim that his Hitchcock-roles were the peak of his career, notably Rear Window (1954) and Vertigo (1958).
Stewart's performances and career deteriorated in the 60s and 70s, and unlike his lifelong friend Fonda (with On Golden Pond), Jimmy Stewart never really had his swan song (although he had a small part in John Wayne's swan song, The Shootist). He died at the age of 89 in his home in Los Angeles, California.
The Academy Awards (Oscars)

1940

Nominated for Actor for Mr. Smith Goes to Hollywood

1941

Actor for The Philadelphia Story

1947

Nominated for Actor for It'a Wonderful Life

1951

Nominated for Actor for Harvey

1960

Nominated for Actor for Anatomy of a Murder

1985

Honorary Award (for fifty years of memorable performances)
Destry Rides Again (1939)
"James Stewart is charming and even a little bit sexy as the mild-mannered Destry" - Pauline Kael
The Philadelphia Story (1940)
"Stewart a fast-talking (!) reporter who falls in love with her. Entire cast is excellent, but Stewart really shines in his offbeat, Academy Award-winning role" - Leonard Maltin
The Shop Around the Corner (1940)
"(...) when you watch later James Stewart films, you may wonder what became of this other deft, sensitive, pre-drawling Stewart" - Pauline Kael
Anatomy of a Murder (1959)
"This overwhelmingly thorough and slow courtroom drama is, embodied through Jimmy Stewart's gloriously suave performance, as stylish and classic as movies come." - Fredrik Fevang
The Man Who Shot Liberty Valance (1962)
"John Wayne is in his flamboyant element, but James Stewart is too old for the role of an idealistic young Eastern lawyer who is robbed on the way West" - Pauline Kael

"Sometimes I wonder if I'm doing a Jimmy Stewart imitation myself."
"There ought to be a law against any man who doesn't want to marry Myrna Loy."
Anatomy of a Murder
Paul Biegler (James Stewart) to Charles Dancer (George C. Scott) after the latter was blocking the view of a witness in the trial:
"If you do that one more time, I'll punt you all the way out into the middle of Lake Superior!"