Philip Seymour Hoffman
FULL NAME

Philip Seymour Hoffman

BORN

23 July, 1967, New York, USA
DIED
2 February 2014 (aged 46), New York, USA

ASSOCIATION

Actor

NATIONALITY

American

REVIEWED ENTRIES

23 (22)

MAX. RATING

MIN. RATING

AVERAGE RATING

4.03

STRENGTHS

Incredible character versatility
Great at portraying misfits with emotional power
Superb speaking voice - ranging from sympatic to utterly creepy
FILMOGRAPHY (ONLY REVIEWED ENTRIES)
| | | | |
| --- | --- | --- | --- |
| YEAR | TITLE | ROLE | RATING |
| 1992 | Scent of a Woman | George Willis, Jr. | |
| 1996 | Hard Eight | Young craps player | |
| 1997 | Boogie Nights | Scotty J. | ½ |
| 1998 | The Big Lebowski | Brandt | ½ |
| 1998 | Happiness | Allen | |
| 1999 | Flawless | - | |
| 1999 | Magnolia | Phil Parma | ½ |
| 1999 | The Talented Mr. Ripley | Freddy Miles | ½ |
| 2000 | Almost Famous | - | |
| 2002 | Red Dragon | Freddy Lounds | ½ |
| 2002 | 25th Hour | Jacob Elinsky | ½ |
| 2003 | Owning Mahowny | Dan Mahowny | |
| 2003 | Cold Mountain | Veasey | ½ |
| 2005 | Capote | Truman Capote | |
| 2006 | Mission: Impossible III | Owen Davian | ½ |
| 2007 | Charlie Wilson's War | Gust Avrakotos | |
| 2007 | Before the Devil Knows You're Dead | Andy Hanson | ½ |
| 2007 | The Savages | Jon Savage | |
| 2008 | Doubt | Father Brennan Flynn | |
| 2009 | The Invention of Lying | Jim the Bartender | |
| 2010 | Jack Goes Boating | Jack | |
| 2011 | The Ides of March | Paul Zara | ½ |
| 2011 | Moneyball | Art Howe | |
| 2012 | The Master | Lancaster Dodd | ½ |
| 2013 | The Hunger Games: Catching Fire | Plutarch Heavensbee | |
| 2014 | The Hunger Games: Mockingjay - Part 1 | Plutarch Heavensbee | ½ |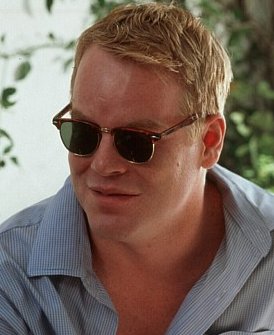 This brilliant actor was one of the industry's most prolific performers from the mid 1990s until his tragic death. Without particularly good looks and without a great physical presence, Philip Seymour Hoffman made a name for himself as one of the most magnetic character actors of his generation. He specialized in playing social misfits and characters on the edge of society, but he also displayed his versatility with wonderful human performances in movies such as Magnolia. This is only one of a handful films by Paul Thomas Anderson that Hoffman starred in.
In 2003, Hoffman landed his first leading role in the Canadian feature Owning Mahowny. His brilliant performance showed his undeniable potential and Hoffman went on to become one of the most sought after actors in the business.
His second lead, as 20th century writer Truman Capote, came in 2005 collaborating with long-time friend Bennett Miller on Capote. The film not only earned Hoffman another stint of rave reviews, but also his first Oscar nomination and award. Although the film was uneven and the role wasn't his most accomplished, the Oscar was thoroughly deserved, even though many critics felt he should have gotten it sooner.
Hoffman died of an accidental drug overdose in February 2014 in his New York apartment.
The Academy Awards (Oscars)

2006

Best Actor for Capote

2008

Nominated for Best Supporting Actor for Charlie Wilson's War

2009

Nominated for Best Supporting Actor for Doubt

2013

Nominated for Best Supporting Actor for The Master
"A lot of people describe me as chubby, which seems so easy, so first-choice. Or stocky. Fair-skinned. Tow-headed. There are so many other choices. How about dense? I mean, I'm a thick kind of guy. But I'm never described in attractive ways. I'm waiting for somebody to say I'm at least cute. But nobody has."
"My favorite thing about acting is being alone and going through the scripts and working on it and getting ideas and asking myself questions, looking outside myself for them and researching and getting to the bottom of something and being creative with it as an actor and how to express it in a creative fashion. That's my favorite part. And,the actual acting of it."
"Sometimes it's hard to say no. Ultimately, if you stick to your guns, you have the career that you want. Don't get me wrong. I love a good payday and I'll do films for fun. But ultimately my main goal is to do good work. If it doesn't pay well, so be it."
Owning Mahowny
Psychologist: "How would you rate the thrill you got from gambling, on a scale of one to 100?"
Dan Mahowny: "Um... hundred."
Psychologist: "And what about the biggest thrill you've ever had outside of gambling?"
Dan Mahowny: "Twenty."
The Talented Mr. Ripley
Freddie Miles (Hoffman): "Tommy. How's the peeping? Tommy, how's the peeping? Tommy. Tommy. Tommy. Tommy. Tommy."
Happiness
Allen (Hoffman): "I know who you are and you are nothing. You think you are fucking something, but you are fucking nothing. You are empty. You are a zero. You are a black hole, and I'm gonna fuck you so bad you'll be coming out of your ears."