Superman (1978)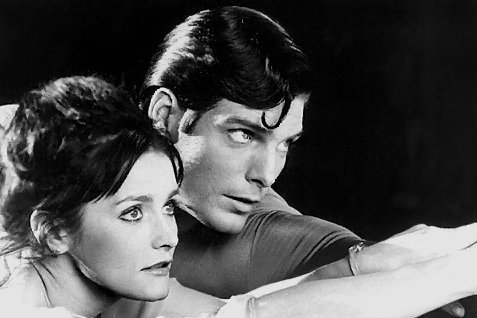 Succeeded by: Superman II (1980)
Director:
Richard Donner

AKA
Superman: The Movie
COUNTRY
UK/USA
GENRE
Superhero
NORWEGIAN TITLE
Supermann
RUNNING TIME
143 minutes

Producer:
Pierre Spengler
Alexander Salkind
Screenwriter (based on the characters by Jerry Siegel and Joe Shuster):
Mario Puzo
David Newman
Leslie Newman
David Benton
Tom Mankiewicz

Cast includes:

CHARACTER

ACTOR/ACTRESS

RATING

Jor-El
Marlon Brando
½
Lex Luthor
Gene Hackman
½
Superman/Clark Kent
Christopher Reeve
Otis
Ned Beatty
Perry White
Jackie Cooper
Pa Kent
Glenn Ford
1st Elder
Trevor Howard
½
Lois Lane
Margot Kidder
½
Non
Jack O'Halloran
Eve Teschmacher
Valerie Perrine
½
Vond-Ah
Maria Schell
General Zod
Terence Stamp
Lara
Susannah York
Young Clark Kent
Jeff East
Jimmy Olsen
Marc McClure
½
Ursa
Sarah Douglas
It was the Salkinds' ambition and Richard Donner's vision that in 1978 changed the representation of superheroes in culture in general and created the live-action superhero subgenre in film in particular. Superman was a landmark film which utilized the fantasy genre to bring young and old viewers together even more than George Lucas did with Star Wars the year before. In Superman, all the elements clicked; the result being that, 30 years on, Superman still is the film to which every new superhero movie is being compared.
The worldly father and son Alexander and Ilya Salkind played for high stakes when they in the mid-1970s decided to bring Superman to the big screen. And their ambition was not only to make the man of steel fly on film, but also to make it all credible and in enormous proportions. Their director of choice, Richard Donner (after Guy Hamilton backed out), shared their view, but also added another one: He wanted to make Superman's inclusion in our world a seemingly realistic one, bringing in Tom Mankiewicz to rewrite the script and making the visuals less pretentious and campy without reducing the grandiose scale. It was this combination of the serious and the fantastical that made Superman's impact so wide and unequivocal.
The rather unknown actor chosen by the filmmakers to play Superman and Clark Kent shared this combination. Christopher Reeve brought a godly, unapproachable quality to the title character and combined this with a remarkably idiosyncratic and wonderfully comedic rendition of Clark Kent. Reeve somehow managed to reduce his chiselled good looks into clumsy and ordinary for Mr. Kent. It was one of two deceptions that had to work in order to make Superman function. The other one, of course, being Superman's flying. With remarkable special effects (which only very occasionally look a bit off) and Reeve's perfect movement, Superman set a new standard for superimposed images on film.
Even though the screenplay was passed on from one accomplished writer to another, it comes off as a tight and very engaging unit in the end. True, there are illogicalities in the story, and the climax in Superman isn't as overwhelmingly effective as in the sequel, but Donner's clever build-up and dedication to depicting Superman's origin and background gave us a reason to believe whatever he proposed towards the end. This was an approach which was very much in the 1970s vein of filmmaking, and which so many action filmmakers of today could learn from.
As a marketing stunt, the producers headlined the highly expensive Marlon Brando and Gene Hackman long before the film was ready for release. This investment undoubtedly paid off, as people flocked to the theatre. Brando and Hackman are both brilliant as Jor-El and Lex Luthor respectively, with Brando finding a delicate, emotional bond to his son in the role of the Kryptonic patriarch. The segment from Krypton has a lot of quality (and allegory) to it, but is unfortunately cut a bit too short in the cinematic version. I rarely suggest the now popularized extended versions, but for this film I make an exception – both because of the depth it provides for the very unique Jor-El / Kal-El relationship and for the remarkable production design (by John Barry) and cinematography (by Geoffrey Unsworth).
Towards the end of filming, the Salkinds and Donner had a falling out, and Richard Lester was brought in to finish the second film (which was shot simultaneously with this one). But the Donner/Salkind collaboration had already been fruitful, and their combined efforts had produced a film that wasn't going to be hampered by administrative mess. The film, like Christopher Reeve's performance and the Superman character itself, had and still has an aura of indestructibility to it, making it the second best superhero film in the medium's history.
Re-reviewed: Copyright © 31.10.2008 Fredrik Gunerius Fevang
Original review: Copyright © 19.2.1997 Fredrik Gunerius Fevang