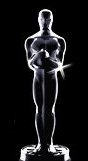 The 90th Academy Awards
Some familiar faces, most notably Meryl Streep (21st nomination), Daniel Day-Lewis (6th nomination) and Denzel Washington (8th nomination) in the acting categories, as well as James Ivory (4th nomination, now 89 years old!), Paul Thomas Anderson (8th nomination), Steven Spielberg (10th nomination for best picture), are up against new blood, like actors Timothée Chalamet and Daniel Kaluuya in the Best Actor category, Saoirse Ronan for Best Actress, and Greta Gerwig for both directing and writing Lady Bird.
The safest bet of all this year, however, is for Gary Oldman to win Best Actor for Darkest Hour. Stay tuned!