Burt Reynolds
FULL NAME

Burton Leon Reynolds, Jr.

BORN

11 February 1936, Waycross, Georgia, USA

DIED
6 September 2018 (aged 82), Jupiter, Florida, USA

ASSOCIATION

Actor

NATIONALITY

American
HEIGHT
180 cm

REVIEWED ENTRIES

25 (22)

MAX. RATING

MIN. RATING

AVERAGE RATING

3.75

STRENGTHS

Charisma and screen-presence
Smile and laughter
Comic talent
Timing in line delivery
Sensitivity
FILMOGRAPHY (ONLY REVIEWED ENTRIES)
| | | | |
| --- | --- | --- | --- |
| YEAR | TITLE | ROLE | RATING |
| 1972 | Fuzz | Det. Carella | |
| 1972 | Deliverance | Lewis | |
| 1972 | Every Thing You Always Wanted to Know About Sex* (*But Were Afraid to Ask) | Switchboard | |
| 1973 | Shamus | Shamus McCoy | |
| 1973 | White Lightning | Gator McKlusky | |
| 1974 | The Longest Yard | Paul Crewe | ˝ |
| 1977 | Smokey and the Bandit | Bandit | |
| 1977 | Semi-Tough | Billy Clyde Puckett | |
| 1978 | Hooper | Sonny Hooper | ˝ |
| 1980 | Rough Cut | Jack Rhodes | ˝ |
| 1980 | Smokey and the Bandit II | Bandit | ˝ |
| 1981 | The Cannonball Run | J. J. McClure | |
| 1982 | Best Friends | Richard Babson | |
| 1983 | The Man Who Loved Women | David Fowler | ˝ |
| 1986 | Heat | Nick Escalante | |
| 1987 | Malone | Richard Malone | |
| 1988 | Switching Channels | John L. Sullivan IV | ˝ |
| 1989 | Breaking In | Ernie Mullins | |
| 1989 | Physical Evidence | Joe Paris | ˝ |
| 1997 | Crazy Six | Dakota | ˝ |
| 1997 | Boogie Nights | Jack Horner | ˝ |
| 1997 | Bean | General Newton | |
| 2001 | Tempted | Charlie LeBlanc | ˝ |
| 2002 | Snapshots | Larry J. Brodsky | ˝ |
| 2006 | End Game | General Montgomery | |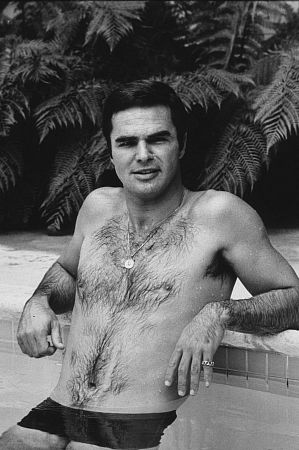 For me as a child in the early 80's, few actors were bigger heroes than Burt Reynolds. I could be fascinated by Clint Eastwood's coolness or Christopher Reeve's god-like appearance, but the charm, humour and liveliness of Burt Reynolds was second to none. I first met Burt through Hooper (1978) and I instantly fell in love with his carefree presence. And that was very much the epitome of Burt's career from the mid 70s and on, even though his career declined in the late 80s. Before this, however, Burt had made his real breakthrough - both commercially and critically - with John Boorman's brilliant Deliverance (1972). Soon after, he was the biggest star of American cinema, and he went through the rest of the decade without caring too much about developing himself as an actor or worrying too much about which roles he chose. He was basically around to have fun, and there is little doubt that he had. He appeared in numerous films with longtime girlfriend Sally Field (who never wanted to marry him), but well into the 80s, his films weren't longer as popular as before and the critics were sterner than ever. After a series of failures, Burt finally made an accomplished performance in Breaking In (1989) in which he finally succumbed to no longer being the young leading man he had been for nearly twenty years. The 90's didn't begin well, but a brilliant performance in Boogie Nights earned him a first (and somewhat surprising) Oscar-nomination. Since then, Reynolds has been more prolific than ever, now well into his seventies.
The Academy Awards (Oscars)

1998

Nominated for Supporting Actor for Boogie Nights
Semi-Tough
"Reynolds' charm makes up for film's other deficiencies" - Leonard Maltin
"(...) with that and Reynolds' polished good-ol'-boy Cary Grant performance, the movie is like a low-grade fever—you slip in and out of it painlessly" - Pauline Kael
Switching Channels
"Burt Reynolds reins himself in and shows some sly grace as Sully" - Pauline Kael
Breaking In
"Reynolds is extremely good in his first character role" - Leonard Maltin
[talking about the stunt scenes he did for his thriller Crazy Six (1997)]:
"I told them, 'Look, I can do this. I can still fall; I just can't get up. But the character is dead, anyway!"
"I regret that I do not have the dignity of Ricardo Montalban, the class of Dean Martin, or the humor of Bill Cosby. I DO have the heart of a lion."
"All of the younger actors keep coming up to me and asking me where all of the land mines are because they know I've stepped on them all."
"If you hold on to things long enough, they get back into style...like me."
"my films were the kind they only show in prisons and in airplanes, because nobody can leave..."
[on Larry King Show, talking about the great parts he turned down]:
"There are no awards in Hollywood for being an idiot."
"I'm finally choosing a role for the right reason. It's not about the location--Jamaica? I'll take it--or the leading lady. It's about the words. I know I'll never be No. 1 again, but I'll be a working actor. And this time, I'll be a grownup. It's time. We have a saying in the South: 'No man's a man until his father tells him he is.' Well, mine never told me, and that was a problem. But my son did."
"I may not be the best actor in the world but I'm the best Burt Reynolds in the world. And nobody does Burt Reynolds better than I do."
Semi-Tough
[When Shake says no to the girl at the altar]:
Shake (Kris Kristofferson): "I don't, Billy Clyde. I just can't!"
Billy Clyde (Burt Reynolds): "I acknowledge that."
[While sitting on the toilet and somebody knocks on the door]
Billy Clyde (Burt Reynolds): "Just shit and shove it under the door!"