Rob Lowe
FULL NAME

Robert Hepler Lowe

BORN

17 March 1964, Charlottesville, Virginia, USA

ASSOCIATION

Actor

NATIONALITY

American
HEIGHT
180 cm

REVIEWED ENTRIES

21 (19 rated)

MAX. RATING

½

MIN. RATING

½

AVERAGE RATING

3.63
FILMOGRAPHY (ONLY REVIEWED ENTRIES)
| | | | |
| --- | --- | --- | --- |
| YEAR | TITLE | ROLE | RATING |
| 1983 | Thursday's Child (TV) | Sam Alden | ½ |
| 1983 | The Outsiders | Sodapop Curtis | ½ |
| 1983 | Class | Skip | ½ |
| 1984 | The Hotel New Hampshire | John | ½ |
| 1984 | Oxford Blues | Nick De Angelo | |
| 1985 | St. Elmo's Fire | Billy | ½ |
| 1986 | Youngblood | Dean Youngblood | |
| 1986 | About Last Night... | Danny | |
| 1987 | Square Dance | Rory | ½ |
| 1988 | Masquerade | Tim Whalen | |
| 1990 | Bad Influence | Alex | ½ |
| 1994 | Frank & Jesse | Jesse James | |
| 1996 | Mulholland Falls | Hoodlum | |
| 1997 | Crazy Six | Billie, aka Crazy Six | ½ |
| 1997 | Living in Peril | Walter Woods | |
| 1997 | Contact | Richard Rank | |
| 2006 | Thank You For Smoking | Jeff Megall | ½ |
| 2009 | The Invention of Lying | Brad Kessler | ½ |
| 2011 | I Melt with You | Jonathan | |
| 2013 | Knife Fight | Paul Turner | ½ |
| 2013 | Behind the Candelabra | Dr. Jack Startz | ½ |
| 2019 | Holiday in the Wild | Derek Hollistan | |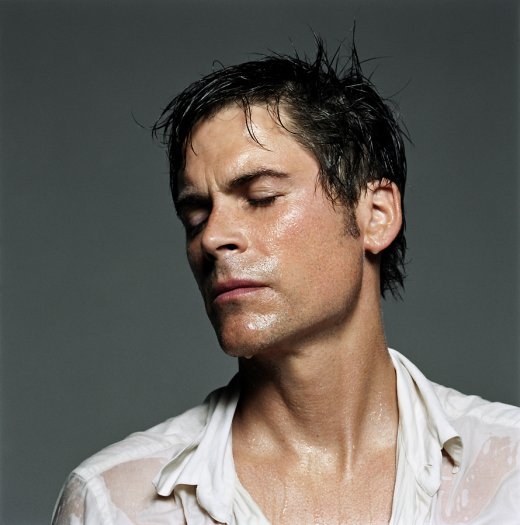 Rob Lowe grew up in Dayton, Ohio as the oldest son of a teacher/homemaker mother and a lawyer father. He was a rather introverted child, but ever since meeting Telly Savalas at a local event, he decided he wanted to become an actor. His first acting experience was doing summer stock in Dayton. His parents divorced when Lowe was young, and after a while his mother remarried and relocated Rob and his younger brother, Chad, to Malibu in California. It was here the young Lowe befriended the Penn and Sheen families, and became particularly close with Emilie Estevez.
Lowe became a regular on the TV-series A New Kind of Family in 1979, and enjoyed his first small bout of success. The series was short-lived, however, and Lowe had to make do with a few smaller parts before joining up with Estevez and a host of other aspiring teenage actors (among others Tom Cruise, who was staying with the Sheen family at the time) to audition for Francis Ford Coppola's The Outsiders in 1982. Lowe got one of the principal parts in the film (although much of it was eventually cut, according to Lowe), and subsequently he, along with other "Outsiders" such as C. Thomas Howell, Ralph Macchio, Matt Dillon, Patrick Swayze plus Estevez and Cruise, became one of a group of much sought-after young talents in Hollywood. A group which was later to become more concentrated and eventually coined 'The Brat Pack' by a journalist from New York magazine.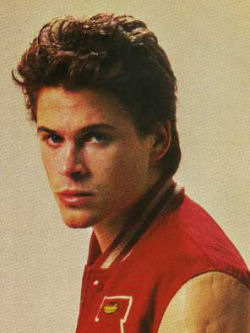 Over the next few years, Lowe went from aspiring young actor to one of Hollywood's top heartthrobs, starring in romantic comedies such as Class, The Hotel New Hampshire, St. Elmo's Fire and About Last Night.... Although he displayed enough talent to have been able to transform his sex symbol status into a more lasting one as a serious actor, bad role choices (including a couple of commercial disasters) and a debauched personal life - which included an addiction to alcohol and sex, materializing in a series of brief and quite public relationships with - among others - Melissa Gilbert, Jennifer Grant, Nastassja Kinski and Princess Stephanie of Monaco, plus a highly publicized sex-tape scandal of Lowe and a 15-year-old girl made sure that he was basically out of demand by the early 1990s. It was at this time that Lowe changed his habits, sobered up and got married with Sheryl Berkoff, now his wife of over 20 years.
Having resurrected his career towards the end of the 1990s, notably through the successful TV-series The West Wing, Lowe now continues to work regularly in television and film - often in supporting roles. His impeccable looks still serves him well, and he has also demonstrated a fairly good knack for comedy, giving fine performances in such films as Wayne's World, Thank You For Smoking and The Invention of Lying.
No awards recorded...
Thank You For Smoking (2006)
Jeff Megall (Rob Lowe): "Sony has a futuristic sci-fi movie they're looking to make."
Nick Naylor (Aaron Eckhart): "Cigarettes in space?"
Jeff Megall (Rob Lowe): "It's the final frontier, Nick."
Nick Naylor (Aaron Eckhart): "But wouldn't they blow up in an all oxygen environment?"
Jeff Megall (Rob Lowe): "Probably... But it's an easy fix. One line of dialogue: 'Thank God we invented the... you know, whatever device'."