Jennifer Jason Leigh
FULL NAME

Jennifer Lee Morrow

BORN

Februar 5, 1962, Hollywood, California, USA

ASSOCIATION

Actress (Producer, Director, Writer)

NATIONALITY

American

FAMOUS RELATIVES

Vic Morrow (father)
Barbara Turner (mother)

Height

160 cm

REVIEWED ENTRIES

17 (14)

MAX. RATING

½

MIN. RATING

AVERAGE RATING

3.89

STRENGTHS

Versatility of appearance
Ability to convey dark, off-beat characters
Ability to convey desperation
FILMOGRAPHY (ONLY REVIEWED ENTRIES)
| | | | |
| --- | --- | --- | --- |
| YEAR | TITLE | ROLE | RATING |
| 1982 | Fast Times at Ridgemont High | Stacy Hamilton | ½ |
| 1986 | The Hitcher | Nash | - |
| 1991 | Backdraft | Jennifer Vaitkus | ½ |
| 1992 | Single White Female | Hedy Carlson | |
| 1994 | The Hudsucker Proxy | Amy Archer | |
| 1995 | Dolores Claiborne | Selena St. George | ½ |
| 1995 | Georgia | Donnie Brasco | ½ |
| 1999 | eXistenZ | Alegra Geller | |
| 2001 | The Anniversary Party | Sally Nash | |
| 2001 | The Man Who Wasn't There | Female inmate (uncredited) | - |
| 2002 | Road to Perdition | Annie Sullivan | - |
| 2003 | In the Cut | Pauline | |
| 2004 | The Machinist / El maquinista | Stevie | |
| 2004 | The Jacket | Dr. Lorenson | |
| 2008 | Margot at the Wedding | Pauline | ½ |
| 2015 | The Hateful Eight | Daisy Domergue | |
| 2017 | Good Time | Corey, Connie's girlfriend | |
| 2021 | The Woman in the Window | Alistair Russell | - |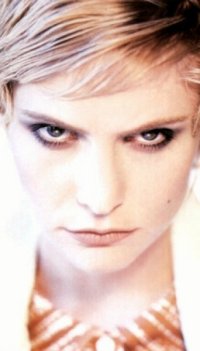 I would have to say that Jennifer Jason Leigh (at the peak of her beauty, which actually isn't many years away) were something like my ideal girl when it comes to looks. Although cute and able to be classically beautiful, Leigh has mostly shined in roles where her looks have been roughened and made unconventional. I love that quality in actresses. The first film I saw her in was probably The Hudsucker Proxy, but it wasn't until I saw her performance in Dolores Claiborne that my adoration really begun.
After a small breakthrough in her debutfilm, Fast Times at Ridgemont High (in a rather ordinary youth role), Jennifer Jason Leigh has always sought out the challenging roles. Misfits, girls on the edge of society or in some other way deviant characters have been her most typical career choices. As a result, Leigh has never garnered any sort of star status, but her work has been generally acclaimed and she's shined in some great roles in smaller films.
She was memorable opposite Bridget Fonda in Single White Female and virtually stole every scene in which she appeared in the Coens' The Hudsucker Proxy. With a fantastic Kathy Bates, she shined in a soul-searching part in Taylor Hackford's brilliant Dolores Claiborne, but if you want to see the sexy Jennifer Jason Leigh, look no further than to David Cronenberg's eXistenZ where she and Jude Law hit it off in a peculiar film.
Leigh made har directorial debut in 1999 together with friend Alan Cumming, casting many of her friends from the business in the charming The Anniversary Party. Although now in her forties, Leigh, in contrast with many of the other actresses of her generation that depended on their classical beauty, has been able to still commend exciting roles. Something tells me that with Jennifer Jason Leigh, the best is yet to come.
TRIVIA
Got her middle name Jason from the late actor Jason Robards who was good friends with her family.
The Academy Awards (Oscars)

2016

Nominated for Best Supporting Actress for The Hateful Eight
Fast Times at Ridgemont High (1982)
"How could they do this to Jennifer Jason Leigh? How could they put such a fresh and cheerful person into such a scuz-pit of a movie? Don't they know they have a star on their hands? I didn't even know who Leigh was when I walked into FAST TIMES AT RIDGEMONT HIGH, and yet I was completely won over by her. She contained so much life and light that she was a joy to behold." - Roger Ebert
"The friendship of the two girls—Jennifer Jason Leigh as the 15-year-old Stacy who is eager to learn about sex and Phoebe Cates as the jaded Valley Girl Linda who shares what she knows—has a lovely matter-of-factness." - Pauline Kael

The Big Picture (1989)
"Very funny performance by Leigh as a dingbat" - Leonard Maltin
Backdraft (1991)
"The gifted Leigh fails miserably playing a normal young woman" - Leonard Maltin
Rush (1991)
"Leigh, of course, is a veteran by now of grubby characters in sleazy films; she has become one of the best young actresses by accepting roles some of her contemporaries would not even consider. After her extraordinary work as a doomed prostitute in LAST EXIT TO BROOKLYN, here she is again, looking sweet and wholesome, and descending into a world of people who have forgotten their better natures.
" - Roger Ebert
Georgia (1995)
"In 1994, Jennifer Jason Leigh was robbed by the Academy of a much-deserved Oscar nomination for Mrs. Parker and the Vicious Circle. Undaunted, Leigh returned to the screen in 1995 with a pair of tremendous performances in films of vastly different tone and temperament: Dolores Claiborne and Georgia. It is for the latter movie, which the actress was instrumental in bringing to the screen, that she will likely receive the recognition she was denied last year. Georgia is a tour de force for Leigh, and her portrayal of the troubled, passionate Sadie lingers in the mind long after many of the movie's plot details have faded." - James Berardinelli
eXistenZ (1999)
"Jennifer Jason Leigh, that fearless adventurer in extreme roles, plays Allegra" - Roger Ebert
In the Cut (2003)
"Jennifer Jason Leigh's part, however, is close to typecasting. This is a role she knows all too well to make an enthusiastic effort when surrounded by material as bleak as this. But still, one has the feeling that with Leigh's range and creativity, things aren't looking quite as doomed as with Ryan." - Fredrik Fevang
Dolores Claiborne (1995)
Selena St. George: [To her boss, Peter] So not only are you not fucking me now, you're fucking me.