Harvey Keitel
FULL NAME

Harvey Keitel

BORN

13 May 1939 (Brooklyn, New York, USA)

ASSOCIATION

Actor

NATIONALITY

American

HEIGTH

170 cm

REVIEWED ENTRIES

20 (18)

MAX. RATING

MIN. RATING

½

AVERAGE RATING

3.92
FILMOGRAPHY (ONLY REVIEWED ENTRIES)
| | | | |
| --- | --- | --- | --- |
| YEAR | TITLE | ASSOCIATION | RATING |
| 1973 | Mean Streets | Charlie | |
| 1974 | Alice Doesn't Live Here Anymore | Ben Everhart | ½ |
| 1976 | Taxi Driver | Sport | |
| 1977 | The Duelists | Feraud | ½ |
| 1988 | The Last Temptation of Christ | Judas | ½ |
| 1991 | Thelma & Louise | Hal | ½ |
| 1991 | Bugsy | Mickey Cohen | |
| 1992 | Reservoir Dogs | Mr. White/Larry | |
| 1992 | Bad Lieutenant | Lt. | |
| 1993 | The Piano | George Baines | ½ |
| 1993 | Point of No Return | Victor | ½ |
| 1994 | Pulp Fiction | The Wolf | ½ |
| 1995 | Smoke | Auggie Wren | |
| 1995 | Blue in the Face | Auggie Wren | ½ |
| 1996 | From Dusk Till Dawn | Jacob Fuller | |
| 1997 | Cop Land | Ray Donlan | ½ |
| 2002 | Red Dragon | Jack Crawford | ½ |
| 2014 | The Grand Budapest Hotel | Ludwig | |
| 2015 | Youth | Mick Boyle | |
| 2019 | The Irishman | Angelo Bruno | |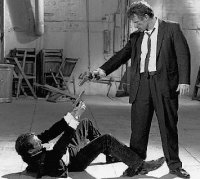 Harvey Keitel entered the world of movies more or less simultaneously as his buddy Martin Scorsese in a handful og early 1970s films. Not strikingly beautiful but with ragged good looks and a charming presence, Keitel often decorated roles as staunch, partly psychotic characters battling both the law and themselves. Through hard work and wise role choices, he has won acclaim as one of the best character actors in the business. Keitel has consciously sought out new challenges when it comes to different types of character, something he has been able to profit from in later years.
In addition to a number of Scorsese movies, and after a calm stint in the eighties, Keitel became somewhat of a Quentin Tarantino favourite, starring in Reservoir Dogs as well as Pulp Fiction. This led to a renaissance and he enjoyed a magnificent decade in the 1990s with fine parts in films such as Bugsy, Thelma & Louise, Bad Lieutenant, Smoke, and The Piano. Keitel has always been willing to embark on risky parts, and has in addition to appearing in a series of European and Australian films also often worked with first-time directors.
The Academy Awards (Oscars)

1992

Nominated for Best Supporting Actor for Bugsy
Reservoir Dogs
Mr. Pink (Steve Buscemi) learns that Mr. Orange (Tim Roth) has been shot in the stomach:
Mr. Pink (Buscemi): "Is it bad?"
Mr. White (Keitel): "As opposed to good?"
Mr. White (Keitel) tires of hearing Joe Cabot (Lawrence Tierney) naming asian guys from a little book:
Joe: "Wong?"
Mr. White (grabs the book): "Give me that fucking thing!"
Joe: "Now, what the hell do you think you're doing. Give me my book back."
Mr. White: "I'm sick of fucking hearing it, Joe. I'll give it back to you when we leave."
Joe: "Whadd'ya mean, when we leave? Give it back now!"
Mr. White: "For the past fifteen minutes now you've been going on about names: Toby? Toby! Toby? Toby Wong? Toby Wong! Toby Wong? Toby Chung? Fuckin' Charlie Chan! I've got Madonna's big dick coming outta my left ear, and Toby I-don't-know-what coming outta my right."
Joe: "Give me that book!"
Mr. White: "Are you gonna put it away?"
Joe: "I'm gonna do whatever the fuck I want with it."
Mr. White: "Well then I'm afraid I'm gonna have to keep it."
Pulp Fiction
When asked to come and help after an O.D:
The Wolf (Keitel): "That's thirty minutes away. I'll be there in ten."