Johnny Depp
FULL NAME

John Christopher Depp II

BORN

June 9, 1963, Owensboro, Kentucky, USA

ASSOCIATION

Actor (Producer, Director)

NATIONALITY

American

REVIEWED ENTRIES

27 (26)

MAX. RATING

MIN. RATING

AVERAGE RATING

3.98

STRENGTHS

His enigmatic appearance and persona
His versatility
His eye-work and speech
FILMOGRAPHY (ONLY REVIEWED ENTRIES)
| | | | |
| --- | --- | --- | --- |
| YEAR | TITLE | ROLE | RATING |
| 1984 | A Nightmare on Elm Street | Glen Lantz | ½ |
| 1986 | Platoon | Lerner | |
| 1990 | Cry-Baby | Cry-Baby | ½ |
| 1990 | Edward Scissorhands | Edward Scissorhands | ½ |
| 1993 | What's Eating Gilbert Grape? | Gilbert Grape | |
| 1994 | Ed Wood | Edward D. Wood Jr. | ½ |
| 1995 | Don Juan DeMarco | Don Juan DeMarco | |
| 1995 | Nick of Time | Gene Watson | ½ |
| 1997 | Donnie Brasco | Donnie Brasco | ½ |
| 1997 | The Brave | Raphael | |
| 1999 | The Ninth Gate | Dean Corso | ½ |
| 1999 | The Astronaut's Wife | Spencer Armacost | |
| 1999 | Sleepy Hollow | Ichabod Crane | ½ |
| 2000 | Chocolat | Roux | |
| 2001 | From Hell | Inspector Abberline | |
| 2001 | Blow | Alice | ½ |
| 2003 | Pirates of the Caribbean: The Curse of the Black Pearl | Jack Sparrow | |
| 2004 | Secret Window | Mort Rainey | ½ |
| 2004 | The Libertine | Rochester | ½ |
| 2004 | Finding Neverland | Sir J. M. Barrie | ½ |
| 2005 | Charlie and the Chocolate Factory | Willy Wonka | |
| 2006 | Pirates of the Caribbean: Dead Man's Chest | Jack Sparrow | |
| 2007 | Sweeney Todd: The Demon Barber of Fleet Street | Sweeney Todd | |
| 2009 | Public Enemies | John Dillinger | |
| 2010 | Alice in Wonderland | Mad Hatter | |
| 2010 | The Tourist | Frank Tupelo | ½ |
| 2011 | The Rum Diary | Paul Kemp | |
| 2017 | Murder on the Orient Express | Samuel Ratchett/John Cassetti | |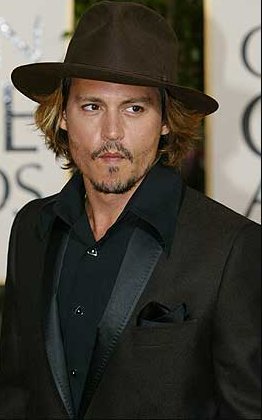 From starring in alternative flicks such as Cry-Baby and Edward Scissorhands, Depp went from handsome but off-beat young talent, to leading box office star during the 1990s.
Johnny Depp is neither naturally talkative nor brawly and thus hasn't had the simple route to superstardom. Additionally, his looks aren't the typical, all-American you'll find in Brad Pitt, to which he has frequently been compared. They share, however, little other than age and period of breakthrough. The aforementioned Scissorhands and Cry-Baby were Depp's first significant leading roles and gave him a position as, if nothing else, the new heartthrob around. But already with his next batch of films, Depp started to show his knack for choosing dark, often unconventional roles in alternative and/or independent productions. These were roles that not only suited him professionally, but also helped build a somewhat enigmatic and exotic image. And critics hailed his work in films such as What's Eating Gilbert Grape?, Ed Wood and Dead Man.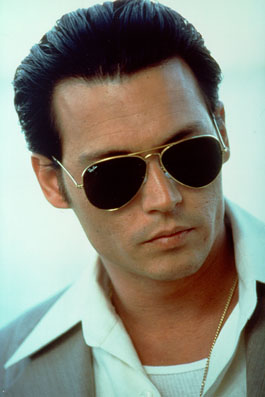 Depp had rarely taken roles that flattered his looks, but with Don Juan DeMarco, anything else would have been impossible. It was a film that underlined his seductive skills - on audiences as well as co-characters, and Depp's versatility it was about to become apparent.
As the millennium closed in, Depp looked more and more as a superstar. With chameleon-like appearances, his screen presence included everything to boyishly handsome to sleezy basket cases. Acclaimed work in Donnie Brasco (1997) and Fear and Loathing in Las Vegas (1998) was followed up by a handful of thriller/horror-films (The Ninth Gate, The Astronaut's Wife, Sleepy Hollow) and then a few smaller international productions (Before Night Falls, Chocolat). After successes with Blow and From Hell in 2001, Depp took a two year hiatus before returning with a fantastic performance in the rather uneven adventure Pirates of the Caribbean. The film earned Depp a first Oscar-nomination and confirmed his position as one of the business most sought-after performers.
Ed Wood (1994)
Edward D. Wood, Jr.: I met Bela Lugosi.
Dolores Fuller: Why, I thought he was dead.
Edward D. Wood, Jr.: No, he's very much alive. Well, sort of.
Pirates of the Caribbean (2003)
Jack Sparrow: [to Weatherby Swann] I think we've all arrived at a very special place. Spiritually, ecumenically, grammatically.
Will Turner: Where's Elizabeth?
Jack Sparrow: She's safe, just like I promised. She's all set to marry Norrington, just like she promised. And you get to die for her, just like you promised. So we're all men of our word really... except for Elizabeth, who is in fact, a woman.