Jim Carrey
FULL NAME

James Eugene Carrey

BORN

17 January 1962, Newmarket, Ontario, Canada

ASSOCIATION

Actor (Producer, Writer)

NATIONALITY

Canadian

REVIEWED ENTRIES

20 (17)

MAX. RATING

MIN. RATING

AVERAGE RATING

3.94
ACTOR FILMOGRAPHY (ONLY REVIEWED ENTRIES)
| | | | |
| --- | --- | --- | --- |
| YEAR | TITLE | ROLE | RATING |
| 1988 | The Dead Pool | Johnny Squares | |
| 1991 | High Strung | Death | |
| 1994 | Ace Ventura: Pet Detective | Ace Ventura | |
| 1994 | The Mask | Stanley Ipkiss / The Mask | |
| 1994 | Dumb and Dumber | Lloyd Christmas | ½ |
| 1995 | Batman Forever | Riddler/Edward Nygma | |
| 1995 | Ace Ventura: When Nature Calls | Ace Ventura | |
| 1996 | The Cable Guy | The Cable Guy | |
| 1997 | Liar Liar | Fletcher Reede | ½ |
| 1998 | The Truman Show | Truman Burbank | |
| 1998 | Simon Birch | Adult Joe | |
| 1999 | Man on the Moon | Andy Kaufman | ½ |
| 2000 | Me, Myself & Irene | Charley Baileygates/Hank | |
| 2003 | Bruce Almighty | Bruce Nolan | ½ |
| 2004 | Eternal Sunshine of the Spotless Mind | Joel Barish | |
| 2005 | Fun With Dick and Jane | Dick Harper | ½ |
| 2007 | The Number 23 | Walter Sparrow/Fingerling | ½ |
| 2008 | Yes Man | Carl Allen | |
| 2009 | I Love You Phillip Morris | Steven Russell | ½ |
| 2014 | Dumb and Dumber To | Lloyd Christmas | ½ |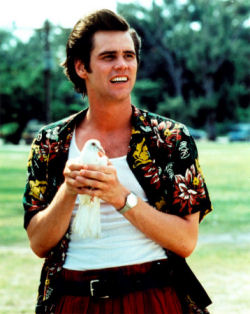 Probably not since the days of Buster Keaton and Charlie Chaplin has a comedian to such degree taken an entire world of comedy lovers by storm and been so influential as Jim Carrey was in the mid 1990s. Coming from obscurity as a bit player in light but rarely hilarious films, Carrey went to instant superstar in 1994 when making Ace Ventura: Pet Detective with Tom Shadyac. It was the start of a long and fruitful partnership between the two, but although Ace Ventura made Shadyac a sought-after director, the success of the film was purely down to Jim Carrey. He created a comedic persona, a delicate mixture of extreme physical and tounge-in-cheek comedy that had never been seen before. It was the title character in and of himself that elevated an otherwise mediocre film to something special and incredibly fresh. From that point, Carrey never looked back. He was in constant demand, and finished off the year starring in another two box office hits: The Mask and Dumb and Dumber, before going on to reprise his pet detective in Ace Ventura: When Nature Calls the following year and reuniting with Tom Shadyac for the brilliant Liar Liar in 1997. For several years Carrey could do no wrong, and everything he touched turned into gold - at least for the producers.
Towards the end of the 90s, Carrey tried to go a bit more serious with his material, albeit without forsaking the comedy. Peter Weir's The Truman Show and Milos Forman's Man on the Moon were proof that Carrey had more to him than the extroverted in-your-face comedy. The rollercoaster ride finally ended by and by in the early 2000s. Even if Carrey has continued to give good performances in good films, he is no longer the ever-metamorphic pioneer from whom one could expect something completely new - whether it be grimaces, guttural sounds or lingo - every single time. But he had already been more influential in a few years than most people in the business achieve over the course of an entire career.
TRIVIA
Ace Ventura (1994)
Ace: [delivering a package] "HDS, sir, and how are you this afternoon? Alrighty, then! I have a package for you!"
Gruff Man: "Sounds broken..."
Ace: "Most likely, sir. I bet it was something nice, though."
Ace: "If I'm not back in five minutes... just wait longer."