Ellen Burstyn
BIRTH NAME

Edna Rae Gillooly

BORN

December 7, 1932, Detroit, Michigan, USA

ASSOCIATION

Actor

NATIONALITY

American

HEIGHT

170 cm

REVIEWED ENTRIES

10 (10)

MAX. RATING

MIN. RATING

½

AVERAGE RATING

4.25
FILMOGRAPHY (ONLY REVIEWED ENTRIES)
| | | | |
| --- | --- | --- | --- |
| YEAR | TITLE | ROLE | RATING |
| 1971 | The Last Picture Show | Lois Farrow | ½ |
| 1973 | The Exorcist | Chris MacNeil | ½ |
| 1974 | Alice Doesn't Live Here Anymore | Alice Hyatt | ½ |
| 1978 | Same Time, Next Year | Doris | ½ |
| 1995 | How to Make an American Quilt | Hy | ½ |
| 2000 | Requiem for a Dream | Sara Goldfarb | |
| 2002 | Red Dragon | Grandma Dolarhyde | |
| 2006 | The Fountain | Dr. Lillian Guzetti | ½ |
| 2008 | W. | Barbara Bush | ½ |
| 2014 | Interstellar | Elderly Murphy | |
| 2018 | The Tale | Nettie | ½ |
| 2020 | Pieces of a Woman | Elizabeth Weiss | ½ |
Arriving fairly late in movies, and even later in the Hollywood celebrity scene, Ellen Burstyn's career has been distinguished by recurring, often low-key critically acclaimed performances in ambitious and groundbreaking films. Her filmatic successes stand as a stern contrast to her turbulent personal life containing three broken marriages and a childhood filled with abuse. That she has been standing tall through it all is a testament to Burstyn's personal strength - a strength that has often been mirrored in her characters.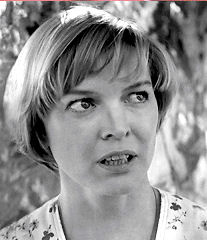 As an actress, Burstyn is unpretentious and highly professional. She portrays elegance and desperation with equal conviction. Her best roles have often been characters that are pushed to the limit, such as in The Exorcist or Requiem for a Dream. What is remarkable is how she's managed to retain credibility even in extreme segments, bordering on the fantastical.
After a non-stop line of successes during the 70s, Burstyn had trouble finding good work in movies during the 80s and 90s, and went on to do a lot of television work instead. However, now well into her 70s, she is back in the limelight and she is as prolific and ambitious as ever. Burstyn has remained a model for women, without ever wearing the feminist hat.
Alex in Wonderland (1970)
"Burstyn stands out as Sutherland's wife" - Leonard Maltin
The King of Marvin Gardens (1972)
"Burstyn's performance as an aging beauty is chilling in its perfection" - Leonard Maltin
Resurrection (1980)
"Burstyn's moving performance is the centrepiece of a wonderful and underrated film." - Leonard Maltin