Jeff Bridges
FULL NAME

Jeff Bridges

BORN

4 December 1949, Los Angeles, California, USA

ASSOCIATION

Actor

NATIONALITY

American

FAMOUS RELATIVES

Lloyd Bridges (1913-2002) (father)
Beau Bridges (1941-) (brother)

REVIEWED ENTRIES

14

MAX. RATING

½

MIN. RATING

½

AVERAGE RATING

3.89
FILMOGRAPHY (ONLY REVIEWED ENTRIES)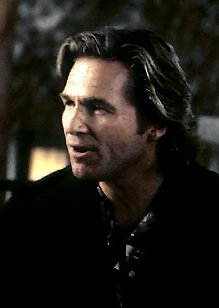 As the youngest of Lloyd Bridges' two acting sons, Jeff made his debut on the big screen at the tender age of four months in The Company She Keeps (1950). From there on, this talented actor never looked back, despite staying away from a possible child-acting career. However, he was often seen in his dad's TV show "The Lloyd Bridges Show" in the 60s.
His major breakthrough came with prominent youth roles in success films such as The Last Picture Show (1971) and Thunderbolt and Lightfoot (1974). His charming good looks made him a youth icon in the 70s, and developed into an alternative leading man in the 80s. Bridges has kept choosing interesting roles throughout the 90s, and have maintained a good reputation among the critics, without ever closing in on superstar-status. Bridges has chosen roles from a wide variety, and has in the later years portrayed everything from the American president (The Contender) to a bowler bum in the Coen brothers' The Big Lebowski.
Thunderbolt and Lightfoot
Lightfoot (Jeff Bridges): "You sure don't look like no preacher, preacher!"