Christian Bale
FULL NAME

Christian Bale

BORN

January 30, 1974, Pembrokeshire, West Wales, UK

ASSOCIATION

Actor

NATIONALITY

British

REVIEWED ENTRIES

21

MAX. RATING

MIN. RATING

AVERAGE RATING

4.12

STRENGTHS

Ability to convey both extreme masculinity and sensitivity
His enigmatic presence
Speaking abilities - has an uncanned ear for accents
FILMOGRAPHY (ONLY REVIEWED ENTRIES)
| | | | |
| --- | --- | --- | --- |
| YEAR | TITLE | ROLE | RATING |
| 1987 | Empire of the Sun | Jim Graham | ½ |
| 1987 | Mio min Mio | Jum-Jum | |
| 1993 | Swing Kids | Thomas | |
| 1994 | Little Women | Laurie | ½ |
| 2000 | American Psycho | Patrick Bateman | |
| 2002 | Laurel Canyon | Sam | ½ |
| 2002 | Equilibrium | John Preston | ½ |
| 2004 | The Machinist / El maquinista | Trevor Reznik | |
| 2005 | Batman Begins | Bruce Wayne/Batman | ½ |
| 2005 | The New World | John Rolfe | |
| 2006 | The Prestige | Alfred Borgen | ½ |
| 2006 | Rescue Dawn | Lt. Dieter Dengler | ½ |
| 2007 | 3:10 to Yuma | Dan Evans | |
| 2008 | The Dark Knight | Bruce Wayne/Batman | ½ |
| 2009 | Public Enemies | Melvin Purvis | ½ |
| 2010 | The Fighter | Dicky Eklund | |
| 2013 | American Hustle | Irving Rosenfeld | ½ |
| 2015 | The Big Short | Dr. Michael Burry | ½ |
| 2017 | Hostiles | Captain Joseph J. Blocker | ½ |
| 2018 | Vice | Dick Cheney | ½ |
| 2019 | Ford v Ferrari | Ken Miles | |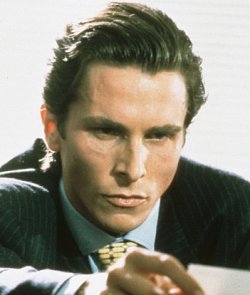 There's something deeply enigmatic about Christian Bale's presence, and in later years he's made the most of exploring it. But behind the mask is a quite regular, Welsh young man that gained instant fame when being cast (among thousands of contestants) for the lead role in Steven Spielberg's Empire of the Sun (1987). Coming from obscurity into stardom at the age of 13, Bale has lived most of his life as a celebrity, but he chose his following roles wisely in the years after his breakthrough. For instance, he relucted to do many Hollywood movies, and grew up under relatively normal circumstances in England and Portugal.
Bale's rise to grown-up stardom begun when Winona Ryder hand-picked him for the role of Laurie in Little Women (1994), and although he didn't land too many great roles in his early twenties, there was never any doubt that his talent and presence would some day make him one of the most sought after leads in the business. After his fantastic performance in Mary Harron's American Psycho, Bale's offers increased instantly, and he's now set to star as Batman in the new film about the superhero.
"It was horrific. I was almost crying in interviews and running away during press conferences, pretending I was going to the bathroom and just disappearing." - on dealing with the resulting media attention of Empire of the Sun at age 13.
"The character is so vain and obsessed with his looks. While the psychology of the character was something that I could perform, you can't fake the physicality. Being English, I tend to enjoy going down to the pub far more than going to the gym, so it was very unnatural for me. I just had to convince myself that I loved it, which was the most difficult thing about playing this part. Working out is incredibly boring. I swear its true that the bigger your muscles get, the fewer brain cells you have. I found I had to stop thinking when I was in the gym because if I thought about it, I'd realize how ridiculous it was that I was pumping iron when I could've been out having a drink and a cigarette and enjoying some lunch. I did three hours a day for six weeks with a personal trainer and some time before that. I ate an awful lot during training and then almost nothing during filming." - On his transformation into Patrick Bateman for American Psycho.
"The only thing that I'm obsessed with is sleeping and, actually, it is more than an obsession, it is a pleasure. I love sleeping so much that I could do it 12 hours a day if I didn't have to turn on the alarm clock...and still, sometimes..."
American Psycho
Patrick Bateman (Bale): "You're a fucking ugly bitch. I want to stab you to death, and then play around with your blood."
[Just after breaking up]
Evelyn Williams (Witherspoon): "Where are you going?"
Patrick Bateman (Bale): "I am just leaving."
Evelyn Williams (Witherspoon): "But where?"
Patrick Bateman (Bale): "I have to return some videotapes."
Evelyn Williams: "You're inhuman."
Patrick Bateman: "No... .I'm in touch with humanity."
Jean (Chloe Sevigny): "What's that?"
Patrick Bateman (Bale): "Duct tape. I need it for... taping something."