A Bout de souffle (1959)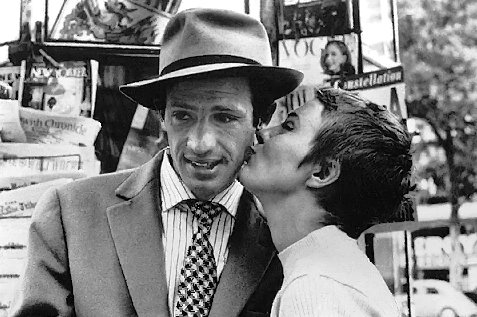 Director:
Jean-Luc Godard

COUNTRY
France
GENRE
Drama
ENGLISH TITLE
Breathless
NORWEGIAN TITLE
Til siste åndedrag
RUNNING TIME
89 minutes

Producer:
Georges de Beauregard
Screenwriter (based on a story by Francois Truffaut):
Jean-Luc Godard

Cast includes:

CHARACTER

ACTOR/ACTRESS

RATING

Michel Poiccard/Laszlo Kovacs
Jean-Paul Belmondo
Patricia Franchini
Jean Seberg
Police Inspector
Daniel Boulanger
½
Parvulesco
Jean-Pierre Melville
½
Minouche
Liliane Robin
½
Antonio Berrutti
Henri-Jacques Huet
½
Informer
Jean-Luc Godard
½
Jean-Luc Godard's hailed new wave classic isn't remarkable because of its crime narrative, borrowed from classic American cinema for Godard to interpret with a combination of fascination and derision, but it is remarkable because of Godard's visionary artistic sense and the embodiment of the modern anti-hero in the shape of the brilliant Jean-Paul Belmondo.
As much as A Bout de Souffle is one of the finest examples of how the filmmakers of la nouvelle vague lived up to their own notion that cinema should be the director's canvas and the camera his pen, it is also a film that captures a purity and timelessness – urban in its realization, but very much basally human. This is prevalent in the characters' needs, insecurity, silliness and nakedness, stemming from Godard's ability to strip them down beyond convention to a level that would be unthinkable in contemporary American cinema. But this is also noteworthy in the film's ability to capture a style and fashion which is elated above volatile mode expressions. It looks new and old at the same time, almost independently of which year after its release you've seen it. The lengthy scene Belmondo and Seberg share together early on, playing and improvising, conducting a game of sexuality and dependence is, from both these two aforementioned perspectives, one of the most unique in movie history. And, just as importantly, it is completely captivating.
The extremely apparent ambivalence and duality of the Belmondo character makes him both unreal and irresistibly interesting. His selfishness and carelessness represents a complete opposite to the traditional film hero, and it makes him sexy and tragic in delicately balanced portions. Belmondo's performance is one of defining proportions. And Godard captured him and his world with impetuous spontaneity.
Original review: Copyright © 8

.4

.1997 Fredrik Gunerius Fevang
Re-reviewed: Copyright © 30.8.2007 Fredrik Gunerius Fevang
[HAVE YOUR SAY]