Edward Norton
Full

NAME

Edward James Norton Jr.

BORN

18 August 1969, Columbia, Maryland USA

ASSOCIATION

Actor, director, producer

NATIONALITY

American

HEIGTH

185 cm

REVIEWED ENTRIES

13

MAX. RATING

MIN. RATING

AVERAGE RATING

3.85
FILMMAKER FILMOGRAPHY - (COMPLETE)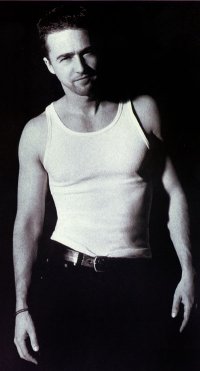 Kanskje det største skuespillertalentet Hollywood har sett siden Marlon Brando. Norton slo igjennom med brask og bram i Gregory Hoblits overraskende 1996-hit Primal Fear hvor hans fantastisk enigmatiske Aaron Stampler ga ham en Oscar-nominasjon. Norton fulgte opp med detaljert og variert arbeid i Milos Formans The People vs. Larry Flynt samt Woody Allens Everyone Says I Love You, før han nok en gang valgte meget snedig med 1998s vakre, intrikate Rounders og kraftanstrengende, rystende American History X. Nok en Oscar-nominasjon fulgte, og Norton hadde i løpet av fem filmer vist nok til å bli trukket opp av kritikere i den virkelige elite. Hans evne til å forberede seg og sette seg inn i sine varsomt utvalgte rollefigurer er unik. I forkant av sin debut endret han sin dialekt og lurte Hoblit til å tro han var fra Kentucky, mens han i forbindelse med Rounders deltok (sammen med medspiller Matt Damon) i det virkelige verdensmesterskapet i poker. Foran American History X trente han seg opp fysisk til det ugjenkjennelige og fremviste et ytre som var kameleonsk ulikt hans Alan Isaacmans fra The People vs. Larry Flynt.
Med Fight Club var Norton nok en gang vågal og kløktig i sin valg av rolle. Filmen fikk varierende kritikker, men både dens kreativitet og publikumstekke var ubestridt, og Nortons navn ble fanget opp av stadig flere kinogjengere. Norton debuterte i regissørstolen med den noe ujevne Keeping the Faith (2000), og har fulgt opp med å være svært selektiv med sine roller. Hans talent er dog ubedtridt, og med fortsatt gode valg kan Edward Norton bygge opp et navn som kan måle seg med de absolutt største i filmhistorien.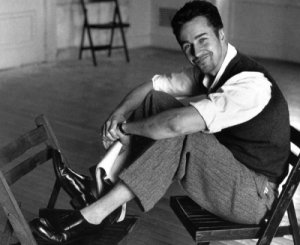 Primal Fear
"Nortons fantastisk detaljerte og enigmatiske portrett er unikt, og overskygger det faktum at Norton-karakterens kompleksitet tidvis overgår dens mennesklighet." - Fredrik Fevang
"The only actor who does anything memorable is Edward Norton, whose performance might remind viewers of Kevin Spacey's Oscar- winning turn in The Usual Suspects. - James Berardinelli
Rounders
"I det hele tatt er Worm en for lite utfordrende rolle for Norton, som ei heller nedlegger blod, svette eller tårer i jobben." - Fredrik Fevang
American History X
"Nortons allsidighet, kraft og rolleforståelse gjør ham til en av de største talentene i sin aldersgruppe på lang tid. Hans glimrende rolle i The People vs. Larry Flynt er av en sådann motsatt karakter av denne, at hans allsidighet allerede er fullstendig stadfestet. I American History X tar han en utfordrende og velskrevet rolle, og gjør den til en karakter med lignende styrke og kompleks mentalitet som Marlon Brandos Stanley Kowalski i A Streetcar Named Desire." - Fredrik Fevang
Keeping the Faith
"Det som redder filmen er en travel Norton som - tross uryddighet - viser frem noen talenter både foran og bak kamera." - Fredrik Fevang

No quotes as of now.
No quotes as of now.