Marlon Brando
FULL NAME

Marlon Brando, Jr.

BORN

3 April 1924, Omaha, Nebraska, USA

DIED

1 July 2004, Los Angeles, CA

ASSOCIATION

Actor, director

NATIONALITY

American

LIVE(D)

Mulholland Drive, Beverly Hills, CA

REVIEWED ENTRIES

17 (16)

MAX. RATING

MIN. RATING

AVERAGE RATING

4.22

STRENGTHS

Extreme emotional depth
Courage and power
Articulate versatility
Command of the screen
Physical presence
FILMOGRAPHY (ONLY REVIEWED ENTRIES)
| | | | |
| --- | --- | --- | --- |
| YEAR | TITLE | ROLE | RATING |
| 1950 | The Men | Ken | |
| 1951 | A Streetcar Named Desire | Stanley Kowalski | |
| 1953 | The Wild One | Johnny Stabler | ½ |
| 1954 | On the Waterfront | Terry Malloy | |
| 1958 | The Young Lions | Christian Diestl | ½ |
| 1961 | One-Eyed Jacks | Rio | |
| 1962 | Mutiny on the Bounty | Fletcher Christian | ½ |
| 1964 | Bedtime Story | Freddy Benson | ½ |
| 1966 | The Chase | Sheriff Calder | ½ |
| 1972 | The Godfather | Don Vito Corleone | ½ |
| 1973 | Last Tango in Paris | Paul | |
| 1978 | Superman | Jor-El | ½ |
| 1979 | Apocalypse Now | Col. Kurtz | |
| 1980 | The Formula | Adam Steiffel | |
| 1995 | Don Juan DeMarco | Jack Mickler | ½ |
| 2001 | The Score | Max | ½ |
| 2006 | Superman Returns | Jor-El (archive footage) | |
Muligens er Marlon Brandos likheter med forfatteren begrenset til at de har samme bursdag, men det kan allikevel forbli udefinert. At førstnevnte er en langt bedre skuespiller, bør dog anses som utvilsomt. For Brando er kanskje det aller største talentet amerikansk film har sett. Sammen med James Dean var han foregangsfiguren for den såkalte 'method acting' som oppsto på 50-tallet. Som Dean var Brando et ikonografert sex-symbol, og en 'vill' sjel. Brando utstrålte og representerte den rastløshet og frustrasjon som hans generasjon ble assosiert med på 50-tallet. Og således var skillet mellom mange av Brandos roller og hans privatliv mer eller mindre utvasket.
Marlon Brando ble umiddelbar megastjerne etter sin triumferende inntreden tidlig på 50-tallet. Fire år på rad ble han Oscar-nominert, for rollene i henholdsvis A Streetcar Named Desire, Viva Zapata!, Julius Cesar, og On the Waterfront. Innen hans Oscar for sistnevnte, kunne Brando velge og vrake i roller som han ville. Han holdt fast ved sin rebelske holdning, både i rollevalg og privat, men innen utgangen av tiåret, hadde denne figuren mistet noe av sin kraft. Brando innledet 60-årene i en noe svakere posisjon, og gjorde også et knippe roller hvor han åpenbart ikke var fullstendig skjerpet eller inspirert.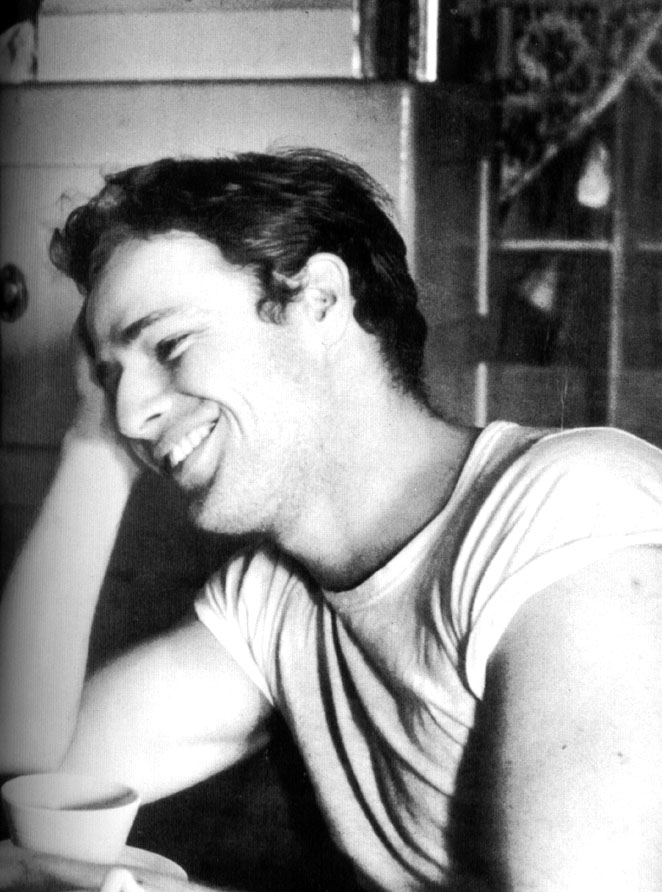 Han fikk et massivt kommersielt comeback med The Godfather (1972), og fulgte opp med nok en glimrende rolle i Bertoluccis Last Tango in Paris (1973). Senere gjorde han bare sjeldne roller, og ei heller alltid like inspirert. For sin lille rolle i Superman, fikk Brando angivelig svimlende summer med penger (3 millioner doller). Også i Apocalypse Now hadde han en mindre, dog noe blasert rolle, mens han i de seneste år har virket mer livlig enn på lenge i filmer som A Dry White Season (1989) og Don Juan DeMarco (1995).
At Brandos karriere inneholder færre suksesser enn talentet hans har potensiale for, er utvilsomt. Allikevel finnes en god mengde filmrull med hans tidløse, og ofte fantastisk emosjonolle tolkninger. Det har blitt sagt om Brando, at han i starten av hver film han spilte inn 'testet' regissøren. Han gjorde den samme scenen to ganger; den ene gangen fløt han kun på teknikken og la ikke sjelen sin arbeidet; den andre gangen var han devotert og inspirert. Dersom regissøren ikke så forskjell på de to tagningene, skal Brando angivelig ha spilt resten av filmen på den mindre engasjerende måten.
TRIVIA
Shares his birthday (April 3rd) with the writer of this site.
My first encounter with Marlon Brando was when I watched Superman (1978) on Norwegian televsion around 1983-84.
The Academy Awards (Oscars)

1951

Nominated for Actor for A Streetcar Named Desire

1952

Nominated for Actor for Viva Zapata!

1953

Nominated for Actor for Julius Cesar

1954

Actor for On the Waterfront

1957

Nominated for Actor for Sayonara

1972

Actor for The Godfather

1973

Nominated for Actor for Last Tango in Paris

1989

Nominated for Supporting Actor for A Dry White Season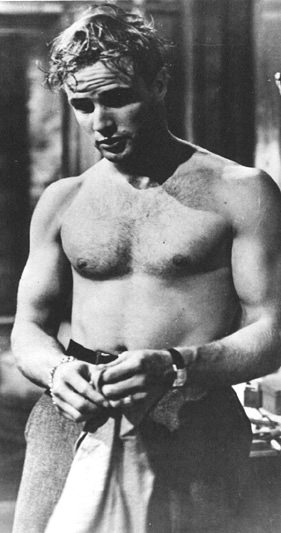 "Brando gives an overpoweringly physical performance. He's amazingly sensitive and intense—no one before him who smoldered on screen ever gave off so much heat." - Pauline Kael on The Men
"(...) but it's Brando who left an indelible mark on audiences." - Leonard Maltin on A Streetcar Named Desire
"(...) you could make a good case that no performance had more influence on modern film acting styles than Brando's work as Stanley Kowalski." - Roger Ebert on A Streetcar Named Desire
"Brando is perfect in title role." - Leonard Maltin on Viva Zapata!
"It is one of the most powerful American movies of the 50s, and few movies caused so much talk, excitement, and dissension—largely because of Marlon Brando's performance as the inarticulate, instinctively alienated bum, Terry Malloy. Some of Brando's scenes, such as his having a beer with Eva Marie Saint in a bar and his conversation with Rod Steiger in a car, have real vibration." - Pauline Kael on On the Waterfront
"Marlon Brando starved himself to play the pixie interpreter Sakini, and he looks as if he's enjoying the stunt—talking with a mad accent, grinning boyishly, bending forward, and doing tricky movements with his legs. He's harmlessly genial (and he is certainly missed when he's offscreen), though the fey, roguish role doesn't allow him to do what he's great at and it's possible that he's less effective in it than a lesser actor might have been." - Pauline Kael on The Teahouse of the August Moon
"The stifled homosexuality of Brando's duty-bound Major Penderton is grotesque and painful. This is one of Brando's most daring performances: the fat, ugly Major putting cold cream on his face, or preening at the mirror, or patting his hair nervously when he thinks he has a gentleman caller is so pitiful yet so ghastly that some members of the audience invariably cut themselves off from him by laughter." - Pauline Kael on Reflections in a Golden Eye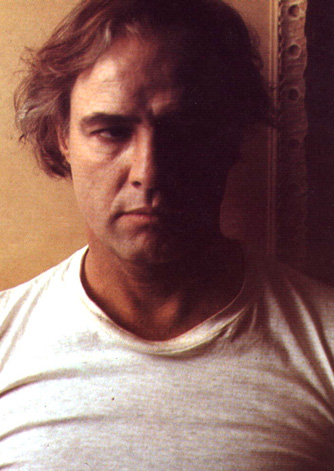 "Brando's performance, then as now, is among the best of his carreer." - Leonard Maltin on Last Tango in Paris.
"It's a movie that exists so resolutely on the level of emotion, indeed, that possibly only Marlon Brando, of all living actors, could have played its lead." - Roger Ebert on Last Tango in Paris.
"When Brando improvises within Bertolucci's structure, his full art is realized; his performance is intuitive, rapt, princely. Working with Brando, Bertolucci achieves realism with the terror of actual experience still" alive on the screen." - Pauline Kael on Last Tango in Paris
"Brando is magnetic (if somewhat askew) in a showy supporting role as an outspoken barrister." - Leonard Maltin on A Dry White Season
"Marlon Brando is airily light and masterly as the veteran anti-apartheid barrister who takes the case even though he knows that he can't get anywhere with the rigged court. The romantic in Brando must have responded to the old rebel's romantic gesture: he saves the picture for the (short) time he's onscreen." - Pauline Kael on A Dry White Season
"When Brando finished filming THE FRESHMAN last September, he attacked the movie in a notorious interview in the Toronto Globe and Mail, claiming it was trash and that he was retiring from acting. A few days later, he retracted his statements and conceded that the movie might be all right, after all. Who knows what his motives were for either statement? Who ever knows with Brando? The fact is that while he's on the screen, few actors have a more complete command of their work, and in THE FRESHMAN he walks a tightrope above the hazards of bad laughs. Think how many ways this performance could have gone wrong. Think of the criticism Brando risked receiving, from those ready to attack him for cashing in on his most famous performance by reprising it for a comedy. Brando must have known the dangers, but he must have had confidence in himself, too—enough to go ahead anyway, and to win a considerable gamble." - Roger Ebert on The Freshman
"Brando - compelling as ever" - Leonard Maltin on Don Juan DeMarco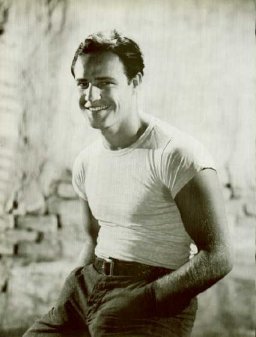 "I'm not fat by nature. I got fat mostly because I loved brownies, ice cream and everything else that makes you fat. One reason for this, I suspect, is that when I was a kid, I'd come home to find my mother gone and dishes in the sink. I'd feel low and open the icebox, and there would be an apple pie, along with some cheese, and the pie would say: "C'mon, Marlon, take me out. I'm freezing in here. Be a pal and take me out, and bring out Charlie Cheese too." Then I'd feel less lonely."
"I have loved a lot in my life. Nor does it matter that with every woman my relationships have ended up in nothing. I've faced love every time as a neccesary good, or a neccesary evil."
"In one scene Ben Johnson had an argument with one of his compatriots, then shot him. I didn't like the expression on the other man's face...I wanted him to show shock and terror, so I said 'let's rehearse this one more time.' I put him on a saddle mounted to a piece of wood and, without telling him, kept the camera rolling. I walked over to him and said 'Larry...in this scene I want you to...' Then, boom! I slapped him hard and jumped out of the scene. He had a wonderful expression on his face, just what I wanted, but I slapped him so hard that I knocked of his moustache, and so I couldn't use the shot." - Marlon Brando on One Eyed Jacks - the only film he directed.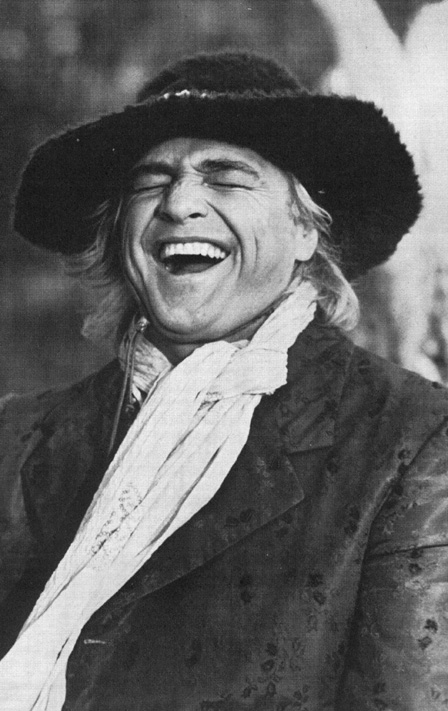 A Streetcar Named Desire
Marlon: "Steeeeeellaaaa!"
The Wild One
Johnny (Marlon): "What are you someone that makes sandwiches or something?"
Woman: "What are you rebelling against?"
Johnny (Marlon): "Whadda' ya' got?"
On the Waterfront
Edie: "Which side are you with?"
Terry Malloy (Marlon): "Me? I'm with me, Terry."
Terry Malloy (Marlon): "You don't understand. I coulda had class. I coulda been a contender. I coulda been somebody, instead of a bum, which is what I am, let's face it. It was you, Charley."
The Godfather
Don Vito Corleone (Marlon): "What have I ever done to make you treat me so disrespectfully? If you'd come to me in friendship, then this scum that ruined your daughter would be suffering this very day. And if by chance an honest man like yourself should make enemies, then they would become my enemies. And then they would fear you."

Last Tango in Paris
Jeanne: "I fell in love with him when I first heard him play piano."
Paul (Marlon): "You mean the first time he got inside your knickers."
Jeanne: "He was a child prodigy; he was playing with both hands."
Paul (Marlon): "I bet he was!"
Jeanne: "Have you been in college?"
Paul (Marlon): "Oh yeah. Yeah, I went to the university of Congo, studying whale-fucking."